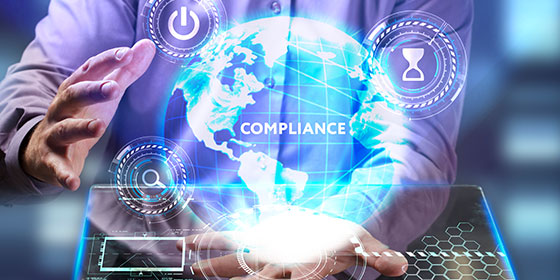 Compliance and Regulatory
We help companies, large and small, meet their ever more complex and time-consuming compliance obligations.
Global spending on compliance, just amongst banks, reached almost $100 billion in 2016, growing from 15% to 25% annually over the previous four years, according to new research.
With the Common Reporting Standard for the automatic exchange of tax and financial information on a global level, which the Organisation for Economic Co-operation and Development developed to combat tax evasion, and the General Data Protection Regulation (GDPR) (EU) 2016/679, which is the legal framework that sets guidelines for the collection and processing of personal information of individuals within the European Union (and beyond in certain circumstances), the global spend is only going to increase. One survey predicted that financial institutions' regulatory costs could more than double over the next five years, the survey found that firms typically spend 4% of their total revenue on compliance, but that could rise to 10% by 2022 as the number of compliance obligations and their complexity continues to increase.
Whilst financial institutions have particularly complex compliance and regulatory requirements, these breaches can be devastating to all companies from a financial loss, including fines, reputational and regulatory perspective.
Not all companies, particularly smaller ones, can employ the in-house personnel necessary to meet their compliance obligations and ensure the necessary level of operational transparency. Compliance can seem complicated and the increasing expectations daunting, so such companies must necessarily look for outside assistance. Other companies just want their compliance practices to be benchmarked against best international practice.
Whatever your compliance needs, RACSAP can assist.
RACSAP can support companies by:
Assisting and guiding them to develop and implement compliance strategies, policies, procedures and controls to ensure that they are aware of and take all necessary steps to ensure compliance with relevant laws, policies, and regulations and changes thereto;
Assistance to identify the compliance 'red flags' unique to a particular company;
Directing and conducting country and regional level compliance risk assessments and compliance audits to validate the company's compliance strategies, policies, procedures and controls;
Providing training to senior executive teams, employees and business partners;
Investigating and overseeing resolution and project managing remediation measures in relation to compliance incidents;
Evaluating potential global and regional areas for compliance vulnerability and risk;
Developing and implementing remedial action plans for senior leaders for resolution of compliance issues, and providing general guidance on how to avoid or deal with similar situations in the future; and
Advising on data protection issues, both intra-country and regionally.
Better compliance control can lead to better business performance and can also improve a company's access to capital.
Assistance with Applications to Regulators
RACSAP is able to assist companies when applying to a Regulator for a new licence to conduct a regulated activity.
We are able to assist on advising:
What type of licence should be applied for;
What documentation and supporting evidence will be required;
What should go into the documents;
Who to approach at the Regulator regarding the application.
RACSAP can also conduct an audit inspection to ensure that the company is in the best position prior to the first post-operational regulatory inspection.
Back to services